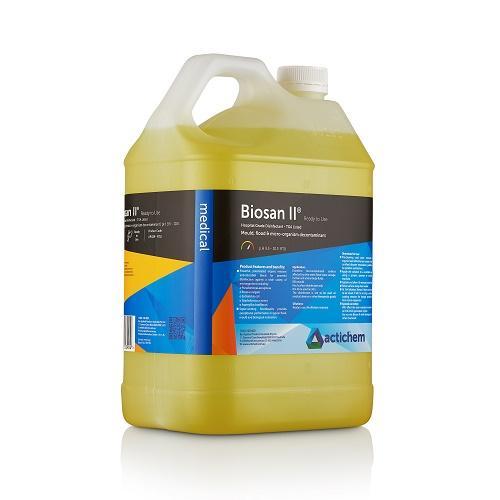 Biosan II Hospital Grade Disinfectant 5L has been tested and proven to be effective against COVID-19.

Biosan II Hospital Grade Disinfectant 5L is a proprietary anti-microbial decontaminant for use in heavy duty restoration situations where bacteria, viruses, spores, moulds and yeasts are prevalent because of flooding, body fluids or organic waste. The core biocidal activity in Biosan II is derived from a synergistic combination of two powerful biocides and specific potentiator chemistry which effectively destroys a a wide variety of microorganisms. This powerful biocidal blend is carried rapidly and deeply into the affected area with a dynamic wetting agent which enables the biocide to penetrate substantially further into porous substrates, fabrics and fibres than traditional disinfectants. Biosan II disinfects bio-contaminated surfaces. Kills mould. Ready to use.

Made in Australia. TGA Approved.
Customer Reviews
Write a Review
Ask a Question
04/12/2022
Roy S.

Australia
biosan disinfectant
The product worked well
29/08/2022
PETER S.

Australia
Quick Delivery
I ordered a 5 litre container of Biosan around lunch time and it arrived the next morning. Excellent service.
Translation missing: en.general.search.loading